The
Missing Piece

to your

Storage Insurance

and

Damage Waiver

Puzzle
Add another revenue stream for your facility by seamlessly integrating Storage Protectors insurance offerings with your existing system and processes – with the highest revenue share in the industry.
Storage Protectors provides the most comprehensive Contents and Damage Waiver insurance coverage program for your renters of Mobile Storage containers and Self-Storage units. We operate across the United States and Canada.
Storage Protectors' Contents and Container Damage Waiver Insurance Programs are underwritten by Falvey Insurance Group, Ltd. ("Falvey") as Managing General Agent of those Interested Underwriters at Lloyd's, London. The Program is administered by Carstin Insurance Partners / Airpark Insurance, a leading specialty insurance brokerage firm, AZ License Number 3000750988.
In Canada coverage is represented through Jones Deslauriers, 2375 Skymark Avenue, Mississauga, ON, L4W 4Y6.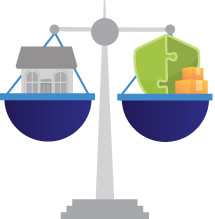 Self Storage Contents Coverage Program vs. Homeowner's Insurance
It benefits you to use the Storage Protectors Program instead of Homeowner's Insurance to insure your stored items because it:
Storage Protectors' contents insurance program provides an extra layer of coverage for your belongings while in storage. Purchasing storage insurance alleviates concerns regarding potential losses from unexpected occurrences.
Storage Protectors Program
Storage Protectors Contents Insurance Details
Coverage Period:
Your coverage is month-to-month as long as your payment is current.
Summary of Coverage
See Summary of Coverage Disclosure
Insurance Policy
Policy (US)
Policy (Canada)
Coverage Amounts:
$2,000, $3,000, $5,000, $10,000, $15,000 & $20,000
Deductibles:
$100 for Contents Insurance Coverage up to $10,000 and $350 for Coverage amounts exceeding $10,000.
Monthly Program Payments:
Per selected coverage amounts.
Program Coverage Effective Date:
Coverage will begin upon your enrollment and processing of your first payment.
Self-storage facilities and Mobile Storage Container Leasing companies do not automatically insure your stored property. The SP Contents Program provides economical coverages which add an additional layer of protection for your stored belongings. Purchasing SP Contents Coverage alleviates concerns regarding potential losses associated with unanticipated incidents of loss.

Covered property includes belongings stored within a mobile storage container or self-storage unit being rented per a valid rental agreement. Covered causes of loss include but are not limited to burglary, limited water damage, vandalism, and fire or lightening.

Homeowner's Insurance may or may not cover your stored property. Consult your homeowner's policy or contact your insurance agent to determine if it's in your best interest to use it. In most cases, extra coverages or a rider may need to be added on to your homeowner's policy to insure contents coverage for your stored property. Homeowner's policies commonly have high deductibles (typically between $1,000 to $3,000) and extensive surcharge periods (typically 3 years) which can deter you from filing claims.

Most personal, business, and commercial goods stored are eligible for coverage.*

*These descriptions of coverage are for informational purposes. The policy itself should be read for coverages, terms, conditions and exclusions.

Currencies, liquid and illiquid securities, animals, reptiles and birds, firearms, jewelry, furs, pelts and fur garments are examples of uncovered property types.

Theft occurs when someone takes property not belonging to them. Burglary occurs when someone takes property not belonging to them by forced entry; by way of example, by cutting a lock or breaking a hasp. The SP Contents Program only covers burglary.

No, flooding damage is not covered. Flood insurance can be purchased from the Federal Government. Rainstorms, windstorm, hail and roof drain damage are covered under the SP Contents Coverage policy

The maximum Program contents coverage amount offered is $20,000. Higher contents coverage amounts are available. Please email [email protected] or call (833) 659-7867 for more information.

SP's Contents Coverage is a month to month, pay-with-rent program. Coverage renews every month upon payment of rent and the monthly SP program fee. Coverage stops when rent and/or your SP Program fee is not paid.

You can enroll in the SP Contents Coverage here. You can also enroll at a participating you will receive a certificate of insurance via email Container Rental Company or Self Storage facility.

Report a claim can be done by filing out our claim forms here. Inquire about claims by emailing [email protected].

Yes. You will receive a Certificate of Insurance and a copy of your declarations page by mail. You may also receive copies by emailing [email protected] or calling (480) 900-8300.